The Windmill, located in Campsall Doncaster, was converted into a domestic property in the seventies. The current owners contacted us to design, specify and install a new heating system featuring underfloor heating.
We decided the best solution for The Windmill was to install Polypipe's Overlay™ system which is an ideal solution for retrospective installations and renovations because it can be laid on top of existing floors. Because Polypipe's Overlay™ system is only 18mm in depth, it does not raise the floor to an unacceptable level.
The unusual layout of The Windmill meant that the system had to be installed in a circular living space over an area of 38.5m². Installation was tricky in such an unusual shaped room but was made easier by the professional design service undertaken by both Bumford's engineers and assistance from Polypipe's dedicated design technicians who helped generate a pipe layout and room design solution.
Because underfloor heating was specified, this allowed the homeowners complete design freedom when it came to locating furniture within the room. Because the room was completely round, it would have been impossible to install radiators to fit the curved walls.
The windmill's internal structure is like a long upright tunnel. It was therefore important that the heating was effective and designed well to make best use of the space. Traditional radiators heat rises along the walls, leaving the middle of a room cold. Underfloor heating is installed across the whole floor which ensures a consistent and ambient heat is produced throughout the entire room.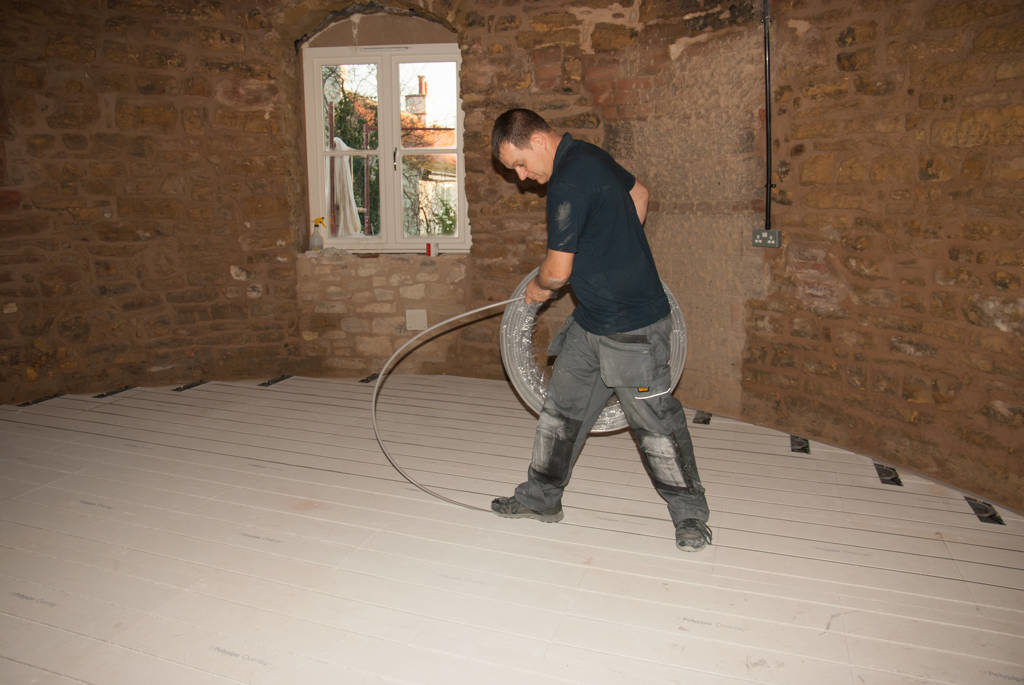 The homeowners chose to install Polypipe's newest generation of controls, selecting the Smart Plus touchscreen thermostat. Bumford's install a wide range of smart control systems which enable the homeowner greater access to control their heating enabling better use of energy. Polypipe's Smart Plus are no different allowing a seamless operation in conjunction with the heating system and also allowing optimum control with both the in house thermostat or mobile devices when out and about.
Bumford's are acknowledged as high quality installers of bespoke underfloor heating systems. Working with the manufacturers we are able to offer solutions at competitive prices to potentially complex problems. Please contact us today and see whether we are able to offer a underfloor heating solution to your property.
Installation Date: December 2016