Bumford's are specialists in the installation and servicing of gas boilers, gas appliances and gas fired central heating systems.
Gas Boilers are one of the most common boilers found in many homes, they run on natural gas which is piped, across the nation, directly into most homes within the UK. For those who live in off-gas areas, there are alternatives to natural gas boilers including LPG (Liquid Petroleum Gas), Oil and Solid Fuel.
There are 3 Three types of Gas Boilers, available on the market, Conventional (also called Heat Only or Regular) Gas Boilers, Combination Gas Boilers, System Gas Boilers. Combination Gas Boilers have become very popular in recent years as they are able to provide instant hot water at any time meaning no waiting for the hot water cylinder to heat up. With a Combination Boiler, there is no need for a feed/expansion tank in the loft or hot water cylinder freeing up valuable living. Combination Boilers are suitable for small houses, bungalows and flats with a single bathroom.
Conventional and System Gas Boilers are more suited to medium to large properties with more than one bathroom as they work on the principle of stored hot water. The hot water they generate is stored in large volumes in a hot water cylinder that is capable of providing multiple outlets in homes with a large demand for hot water. As well as a hot water cylinder with a conventional or system gas boiler a feed/expansion cold water tank is also required in the loft. The main difference between a system and a conventional boiler is that a system boiler incorporated a built-in central heating pump and expansion vessel which would be added separately to a heating system with a conventional gas boiler. Also with a system gas boiler, the central heating system is sealed and so an unvented hot water cylinder is required, once the central heating system is filled with water it should not require any additional water, unlike a conventional gas boiler system which is periodically topped up via the feed/expansion cold water tank in the loft.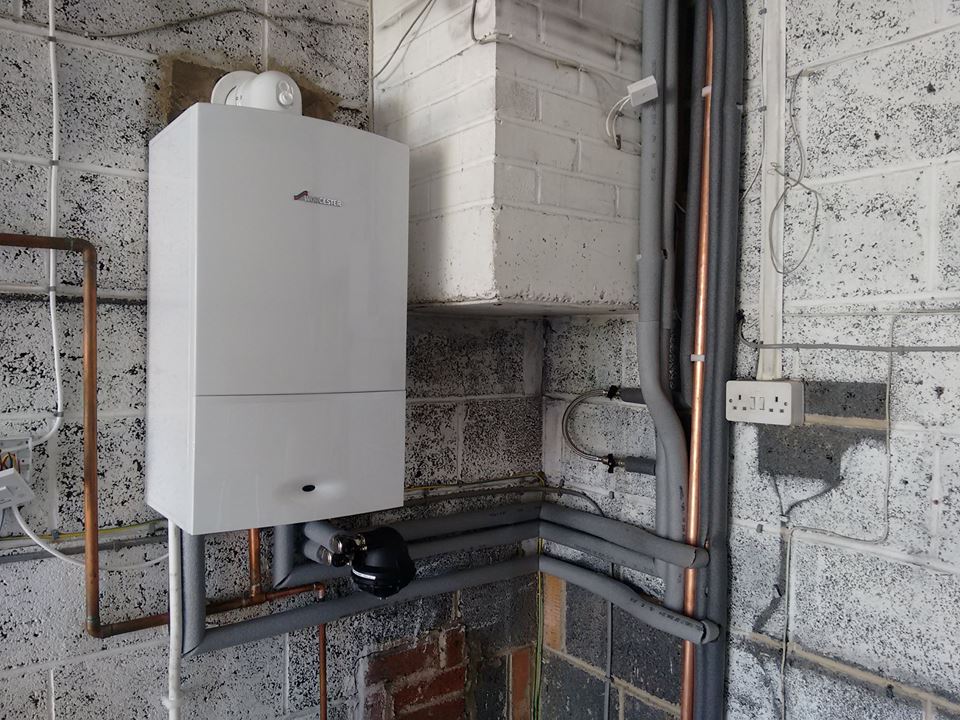 Most Gas Boilers now are condensing Gas Boilers and are able to reclaim latent heat from the waste gases produced by combusting gas, which would otherwise be lost by a non-condensing Gas Boiler. A Condensing Gas Boiler uses a secondary heat exchanger and the waste flue gases are directed over this before being expelled into the atmosphere. The secondary heat exchanger can reduce the flue gas temperatures by around 55°C which is a significant amount of reclaimed energy. This reclaimed heat is used to help reduce fuel consumption and in turn, reduce the user's fuel bills. A reduction in fuel consumption also means that the home's carbon footprint is also significantly reduced making the heating and hot water systems more environmentally friendly.
Whichever Gas Boiler you choose to fit in your home by law it must be installed by a qualified and Gas Safe Registered engineer. This is because only a Gas Safe Registered engineer can perform work on a gas appliance or gas supply. Bumford's engineers are gas safe registered with years of experience in installing and servicing Gas Fired Boilers, gas appliances and heating systems. Our highly skilled and qualified engineers can assist with the design through to the installation of any Gas Fired Boiler, Appliance and Heating System. Contact us now for a free, no hard sell, no-obligation, bespoke quotation.
Or come and visit our showroom, which features the latest high-tech innovations in the heating industry including a full functioning, high-efficiency Worcester boiler.